Top 8 Benefits Of Gym Supplements: Take Your Routine To The Extreme
Setting out your fitness goals is an exciting activity. From workout routines to meal plans, there is a lot of preparation needed. Something to consider when planning the perfect workout routine is the necessity of gym supplements. The right gym supplements can take your gymming route to the next level. Alongside taking care of your body, adding gym supplements to your daily diet will enhance your workout routine and get you to your goals in record time.
We have compiled a list of the top 8 benefits of gym supplements to motivate your gymming journey. We at Prime Growth offer a wide variety of products to optimise your gym routine. With a focus on health, fitness, and general well-being, Prime Growth is here to help you "BE THE BEST YOU"
Top 8 Benefits of Gym Supplements:
The right supplements can go a long way when it comes to your gymming journey. Everyone understands the importance of a healthy diet and continuous exercise, but the beneficial nature of gym supplements is often overlooked. Take a look at our list of the top 8 benefits of gym supplements to understand why you should incorporate them into your workout routine.
1)Essential Nutrients:
Some supplements contain a plethora of proteins that are vastly beneficial to your body. By taking the right supplements, you'll be able to supply your body with essential nutrients that are easy to absorb. Bridge micronutrient deficiencies with Prime Growths' collection of gym supplements. While you shouldn't be using gym supplements to replace entire food groups, certain supplements make a great addition to a healthy diet. The idea is to combine healthy eating with various supplements for a well-rounded, nutrient-rich lifestyle.
For a complete multi-nutrient pack featuring only the best quality ingredients, why not try the TNT Mercury Nutrient Beast supplement pack? Packed with all your nutrient needs, this Prime Growth supplement option is an ideal all-rounder for any gym routine.
2)Muscle Growth:
Fitness supplements are vastly beneficial for stimulating muscle growth, Supplements enable your body to burn off fat while building muscle simultaneously. Anyone looking to build muscle at the gym will benefit from taking protein-based gym supplements on the regular. Furthermore, supplements rich in amino acids allow your body to endure high-intensity training and encourage a swift recovery time.
For a high-performance, all-in-one muscle builder supplement, take a look at Prime Growth's Sci-Core Muscle Core supplement option. The Sci-Core Muscle Core intra-workout is designed to support lean muscle growth and endurance. This formula is an outstanding gym supplement and allows you to make the most of every workout session. Train for longer and lift heavier loads while building muscle with the Si-Core Muscle Core supplement.
3)Muscle Repair:
Another benefit of taking gym supplements is the muscle repair attributes of some formulas. Certain supplements are geared towards regenerating and repairing muscles. Supplements that are rich in creatine, glutamine, and proteins are the perfect blends for muscle repair and rejuvenation. These kinds of supplements can also assist in reducing muscle mass breakdown as well as prevent after-workout stiffness. There's no need to avoid leg day when you have the right supplements available to minimise the after-workout aches and pains.
The NP Intra Load provided by Prime Growth is the ideal supplement for preventing muscle damage and maximising performance. This elite formula is made with muscle recovery in mind and will help increase your stamina and improve workout performance as well. Incorporating pure whey protein isolate as well as beta-alanine, the NP Intra Load supplement fosters the perfect environment for muscle growth and repair.
4)Workout Energy:
While you might begin your workout plan feeling eager and ready to go, sometimes life gets in the way, and finding the energy to hit the gym can be difficult. Certain supplements serve as a much-needed energy booster to get you back on your feet and work your body accordingly. Fitness supplements are beneficial for helping your body produce the energy needed for strenuous workout routines. Overcome fatigue and accelerate your training with energy-boosting supplements.
The Insane Labz Insane Cutz supplement offered by Prime Growth is a great source of energy and an effective addition to your workout routine. Functioning as both a fat-burner and hard-hitting energy booster, this supplement will have you rearing to go, and ready to face some vigorous exercise.
5)Weight Loss:
Fitness supplements are also incredibly beneficial for weight loss. Whether you want to shave off some winter weight, or you're aiming for a leaner build, taking gym supplements will help you burn off unwanted fat in no time. Supplements and a healthy diet, coupled with a good amount of exercise is key to maintaining a healthy body weight and a nourished mind.
The NPL Diet Pro is a balanced supplement in the form of a weight loss shake that is the convenient key to your weight loss mission. Prime Growth offers this marvellous mix of pure protein, green tea extract, Garcinia Cambogia, and L-Carnitine to help you achieve your weight loss dreams. This supplement will not only satisfy your hunger but serves as the ideal meal on the go. Simply add water or milk, give it a shake, and you're ready to hit the gym.
6)Ease Fatigue:
Fitness supplements are useful for easing the fatigue that comes after working out. You might endure a strenuous workout session and then have to run to work. Taking the right supplements will help to keep you on track and focused after a thorough workout, to keep you energised and equipped to handle the rest of the day. Erase exhaustion with the right supplements and fit a gym routine into an already busy day.
Increase your focus and energise yourself with Prime Growth's supplements and stimulants. If fatigue is posing a problem in your daily routine, try the Sci-Core Rocket Energy stimulant for increased energy and telescopic focus. This supplement is an ingenious blend of vasodilation and endurance formula, allowing you to get going on a pump you can be proud of.
7)Enhance immunity:
Boost your immune system with the beneficial supplements supplied by Prime Growth. Immune support supplements are packed with important vitamins to keep you at peak performance throughout the day. With the right vitamins in the form of fitness supplements, you'll be able to nourish your body with the nutrients it needs for an effective, healthy workout routine.
The Vitatech Immune Support supplements offered by the Prime Growth team are ideal for giving your body the vitamins and minerals it needs to stay healthy. This supplement may assist immune health and keep you gyming on the regular.
8)Sleep Aid:
Some supplements are useful for helping you get to sleep after a long day at the gym. While you could take these supplements regardless of whether or not you frequent the gym, supplements that aid with sleep can be very beneficial to your body.
An after-workout adrenaline rush can make sleeping difficult, and if you want to catch a few hours of shut-eye without counting sheep, some sleep aid supplements can assist with this. To function at peak capacity, your body needs rest and relaxation. Certain gym supplements can help you achieve this after a strict workout session.
A useful supplement offered by Prime Growth to aid sleep is the Vitatech Sleep Support tablet pack. These sleep support tablets aid in relaxation and promote a night of deep, restful sleep. A combination of Gamma-Aminobutyric acid, Valerian extract, Sceletium Tortuosum, and Chamomile Flower extract will help you get the sleep you need to reach your fitness goals.
5 Best Supplements To Begin With:
Alongside training routines and nutrition programs, supplements are highly recommended for reaching your gymming goals. Now that you know the benefits of taking supplements on a daily basis, let's take a look at some of the best supplements for beginners. If you're new to the gymming scene and you are wondering where to begin when it comes to supplements, this list is for you.
Many of the fitness products supplied by Prime Growth incorporate these top 5 supplements to help you take care of your body while working out. Read through this quick guide to learn what to look for when picking out the perfect supplements for your body.
1)Whey Protein: Whey protein is one of the best-selling protein powders on the market and is hailed as one of the top supplements for building lean muscle. Whey protein is able to rapidly instigate muscle growth and is a perfect addition to your daily workout. This powder can be taken both before and after workouts for a significant increase in muscle mass and increased strength. When it comes to stimulating supplements, Whey protein is the way to go.
2)Creatine: Anyone who has hung around the gym for more than a few minutes will have heard the mention of Creatine. As one of the most popular supplements to ever hit the market, Creatine is an effective supplement that promotes increased muscle mass and long-term muscle growth. If you're just starting on your fitness journey, Creatine is a supplement you don't want to skip.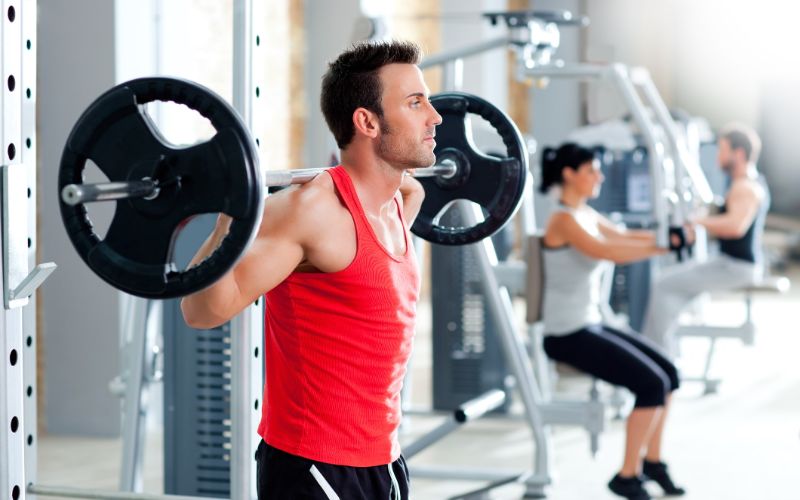 3)Branched-Chain Amino Acids: Branched-Chain Amino Acids, or BCAAs, are useful supplements to implement into your routine. A combination of leucine, isoleucine, and valine, BCAAs are used as a direct energy source for your muscles during workouts. This allows you to train for longer periods, with less fatigue. These supplements can be taken before your workout to increase your energy, and after your workout to stimulate muscle growth and repair.
4)Casein Protein: This is a slow-digesting protein with a plethora of benefits to your body. Adding Casein protein to your food, or taking it in the form of a protein shake before bedtime is a great way to stimulate long-term muscle growth. Beginners in the fitness industry will benefit from this slow-acting protein powder and see a vast improvement in muscle growth.
5)High Glycemic Carbohydrate: High glycemic carbohydrates, or fast carbs, provide ample energy for your workout routine by restoring muscle glycogen. Don't compromise on your strength and energy levels, rather get a hold of some reliable supplements and take your gym routine to the extreme.
About Prime Growth Nutrition:
Prime Growth is a trusted supplier of gymming and fitness products. With a focus on health and fitness, Prime Growth offers reliable gym supplements amongst a variety of other products to keep you and your body happy and healthy.
At Prime Growth, everyone is welcomed warmly. We are here to encourage and assist you on your fitness journey by providing the best of the best brands and supplements on the market. Let us help you "BE THE BEST YOU" and get you started on your fitness journey the right way.